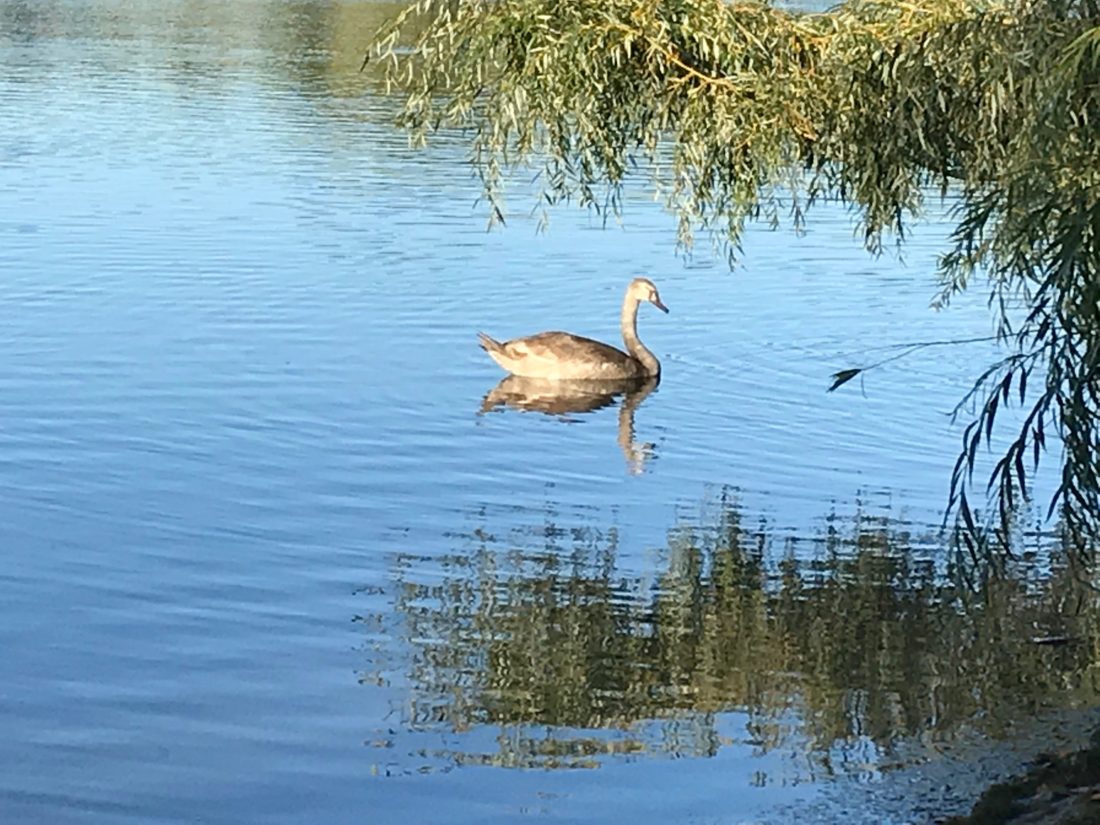 The Courage of Swans, the Wisdom of Owls
What is the courage of the swan among ducks? 
What is the journey from solitude into trust?
Dare we scratch our harsh stories against the grain of life, and risk that they will become things of beauty?
These are questions poets ask themselves as often as they take in breath.
Jung, a poet in his own right, spent his whole life searching for a language that would do justice to his insight that we are each "a splinter of the infinite deity."
He was far from alone.  Who doesn't long for that voice that will not only convey our deepest experiences, but – harder and harder it seems, for so many – know that it is heard.
Swans float among ducks in the silver of autumn where I walk these days.  They remind me of what is possible.  Just as owls called to my friend, Nancy Rappaport.
Sometimes, we are given voices when our story falls apart.
Two weeks ago, I sat in an off-Broadway theatre as Nancy performed a remarkable one-woman play that she has composed about her journey through breast cancer, and her accompanying pilgrimage into a deep, mystical faith in the healing presences that she has found on long walks through Mount Auburn Cemetery in Cambridge, MA.
In giving us this gift, it seemed to me that night and now, days after, she transformed herself into a swan among ducks, a poet of healing.
With unflinching candor, she relates her shock at her diagnosis (she is a doctor), her fear, the dehumanizing process of medical procedures that so often shear away what trust we have in western medicine.
What called her from the terror of the hospital corridors to the silence of the cemetery?  What path, what voices unheard by the ordinary ear, led her to its deep and healing mysteries?
I know Mount Auburn Cemetery as a beautiful patch of tranquility, a mecca for birders and history bounty hunters eager to explore the many tombs of the famous there.
For Nancy, the cemetery became a source of communion, and its beauty a space of healing. There, the call of the owls in the deep, hidden glens evoked the presence of her late mother and the intimations of an overarching love.  As she struggled with the decision to refuse conventional plastic surgery and faced her fears of dying, she returned time and time again to the solace of the quiet stones, the centuries-old trees, the birds.  In its silences, and in the visitation of the owls, she found it in her to trust the process of recovery, and a new hunger to live a life of gratitude, immediacy, beauty and joy.
As I watched her, rapt, move across the stage, changing from street clothes to johnnie to beach flip flops, wrapping herself up in her beloved prayer shawl, or in meditation as the strings of a cello provided gorgeous accompaniment, I was aware once again of how essential and courageous it is for us to scratch the truth of our journeys on the air and into the relationships we cherish, to create story and beauty out of the hurts that tear us from innocence to wisdom.
Such messages are a form of ritual, just like the praying with incense, or the breaking of bread. They become the gifts that break life open and allow us to see the labyrinths we only recognize by walking them, the healing koans we discover only by returning time and again, until their mystery breaks open for us.
"In the end the only events of my life worth telling are those when the imperishable world erupted into this transitory one," wrote Jung at the start of his memoir, Memories, Dreams and Reflections.
Nancy's play, Regeneration, gave voice to such an event and we are the richer for it.  Her ordeal revealed allowed us to see the metamorphosis of pain into wise beauty.
Regeneration will be performed again.  Information will be posted October 29, 2017 at 6 p.m. at this link:
http://unitedsolo.org/us/regeneration-2017/