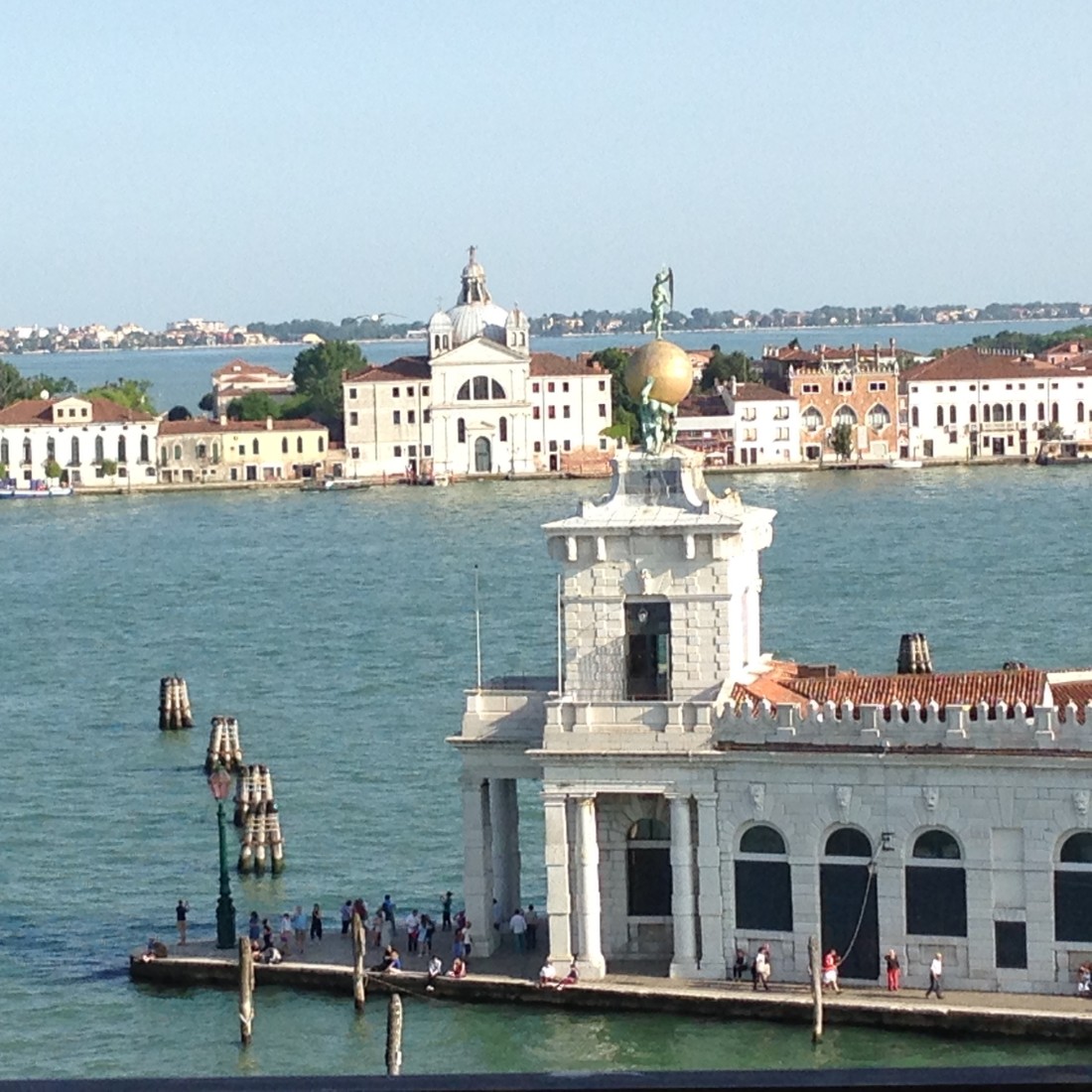 Letter from Venice
Going on a journey is a lot like stepping into an orchard at harvest time. Our sacks are empty. Even if we have had breakfast on the way, we arrive hungry for the feel of something we haven't known in a long time.
Several weeks ago, I travelled to Venice for the first time in 25 years. I was full of hope that the city would be as magical as it had been when last I'd seen it. I took my adult son, which only raised the ante. Would he love the museum-quality of its postcard views and narrow calles? How many churches would he endure? Would we have enough space to see anything in the Piazza San Marco amid the cruise ship crowd?
I discovered this time around that Venice is a city of impressions. You can't get to the bottom of it, or wrap your arms wholly around it. Even if you fill your sack to the brim, there is always more.
It is a city of bells and stones and small gold chips of tesserae that glitter even in your dreams. It is a place where in certain hotels you can still order cigarettes, and have them arrive in a silver box on a silver plate in the hand of a liveried bellhop.
What coalesces from my impressions is far less defined than a narrative. It is more about atmosphere, and character.   Far more than London, more even than Paris, Venice exercises the pull of memory, dream, and longing.
By five p.m. on a Saturday we have walked for miles in the maze that is Venice. We have passed shop upon shop of linens, purses, Murano glass; kiosks laden with straw hats from China; gondoliers plying the thick green of the canals, window boxes overflowing with impatiens. We have passed through shaded drawing rooms with green silk walls and catalogs of past art exhibits and pitchers of Bellinis to refresh weary travelers. We've glanced into courtyards and seen there the ornate pews of a once-active monastery, given over to a cocktail lounge for British patrons.
We have passed the old woman volubly rendering her confession in the Basilica, indifferent to the thousands who shuffle past, and observed the boy perched on a rush chair in a cheese shop, reading while his grandparents tend to customers.
It would seem that we have seen and heard all, have filled our sacks. But then, at 5 p.m., the bells begin. I am standing on a rooftop overlooking the Grand Canal. To the south is Santa Maria della Salute. Directly across the way, Isola di St. Giorgio Maggiore. In the middle distance, the gold figure of Fortune as a young boy bears an arrow and a shield far too large for him, acting the weather vane that Fortune is – blowing this way and that, never in one place for long.
Fortune bids me think of the blessings that enable me to stand where I am at this moment, sipping a glass of Prosecco with my family, rather than in any of the dark places on this sad earth where I might be, or at other times have been. Surrounded by waves of bells, in sweet, sonorous variation, for a moment the darkness, struggle, the world's pain, gives way to an in-rush of wonder.
The first thing my eye fell on when I returned home, was a headline of the shooting death of an innocent 17 year old at city high school. Three days later, the massacre in Orlando.
Every meeting and dinner table conversation since has been heavy with death and violence. Talk turns quickly to politics, and our thoughts to what can be "done" to stop access to assault weapons, or to beef up mental health services. The shadows of darkness descend.
In my mind's eye, Fortune continues to shift in the wind above the Grand Canal. We moderns believe – and rightly so, for the most part – that our fortunes depends less on the whim of the gods than on our own choices.   Fresh from my travels, the question I ponder is this: how do we frame and make the choices by which we live?
I may be called naïve, but I am willing to venture that we cannot wholly embrace the demons among us without counterpoint reference to all that we hold dear, all that uplifts us, all that makes us as nearly divine as we can be. Without a firm link to our longings, we will tumble into those dialogues with evil that can so easily mire us in the darkness. Our great hope is our power to imagine something different, and to build, paint, create it.   And this is what Venice bears witness to.
Beneath the arresting figure of the boy, Fortune, thousands flock each day, filled with a deep, intense longing that the rest of the world cannot fill. We come not even knowing how empty our bags are in this modern world, for the aspiration of great art and the ways it fills us. For images that depict our aspiration for transcendence, meaning, beauty. We come for grace, for a hope the world doesn't readily give. We come for the bells, secretly hoping that they will wake up the shadowy corners of our shrunken souls.
It doesn't matter how we get there. What matters is that we recognize the hunger that makes us human – the same hunger that accounts for every stone laid upon stone, every gold chip set into mortar to hang above this marvelous city.