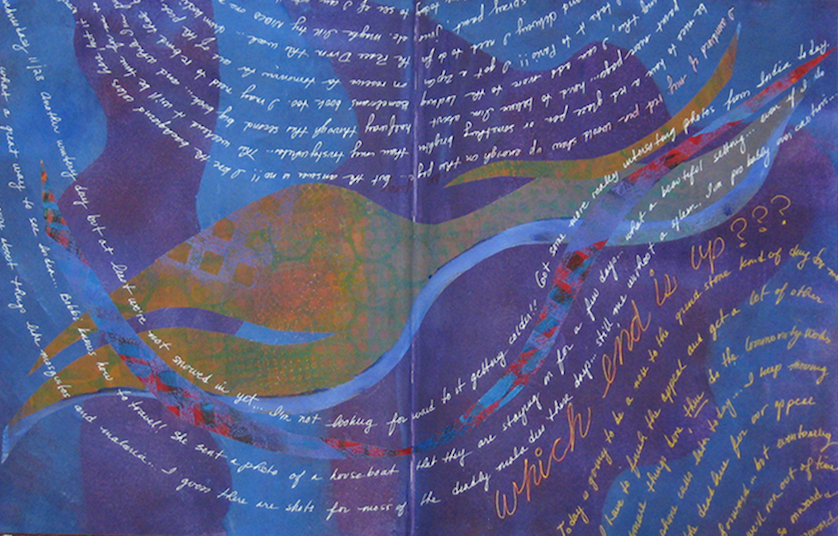 Layers for the Solstice
Life is lived on so many levels simultaneously.
My friend, the book artist Susan Porter, has taught me how it is possible to live simultaneously with sorrow and joy.  She steps into each day in total trust that her imagination will lead her from the ever-present pain of loss into the energies of celebration and gratitude.
This is the great spiritual lesson of paradox.
This isn't a wisdom that a person can think her way into.  It arises from hard experience, perseverance, and a wild kind of faith, that most days seems hard for us ordinary mortals to come by.  In spiritual traditions, it is the highest peak of maturity.
Susans images are magical utterances from out of her awareness of life's layers and levels.  She paints her pages long before she returns to work them by applying hand-embellished papers that she cuts and collages and glues down. The final stage is her free writing, often done with dazzling metallics and colored inks, around and through and over the ground of her images.  Her process is a perfect expression of her life experience: the journey is never simple or straight, but always nuanced, and full of unexpected movement and turns.
When I watch Susan move around her studio, or in a room full of students, inspiring with her energy, her extraordinary gift for color and forms, and her sweet willingness to let imagination have its way, I am humbled and moved, for I know that a part of her still grieves the untimely loss of her husband some years ago.  Her art is her way of moving forward, in an irrepressible hope and trust.
As we come to the end of this season so marked by swatches of darkness and small points of light, Susan is a beacon who shows me that it begins by placing one foot in front of the other, with a delicate alchemy of acceptance,  an open heart, and gratitude.
For happiness is not what makes us grateful.  It is gratefulness that make us happy.
David Stendahl-Rast