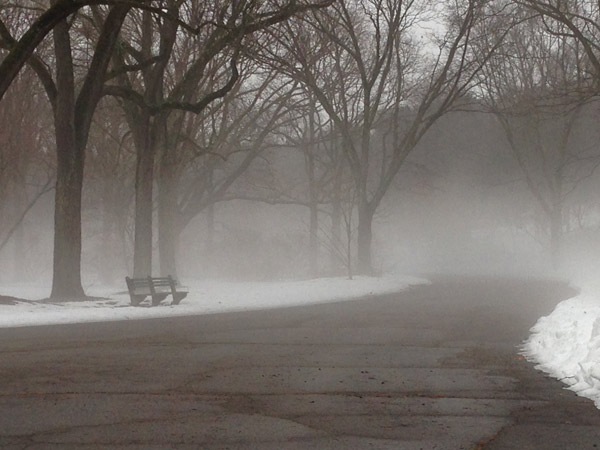 Into the Wilderness
I cancelled my appointments today, a Saturday, so that the house would be perfectly silent.  I have left my phone on silent, in a drawer in the bedroom.  I've chosen to sit quietly and knit, take a walk in the park, watch the birds at my feeder, and listen for the heartbeat of life.
It requires enormous will power to make this turn – into silence and vulnerability.
All the twinkling lights of my familiar world – my campus classroom, decorated church, the UPS stops to mail last minute packages, and the mall for stocking stuffers, all fade into the distance.  And I face into what waits in the silence, all the phantoms and imaginings and, I hope, insights, that typically come only in the middle of sleepless nights.
The world does everything imaginable to buffer us from this turn.  I hear the voices of good people pooling the collective wisdom that says the good life is filled with "activity," "purpose" "duty" – giving gifts, responding to emails, attending to every need, never missing a meeting or a chance to volunteer for a cause, or to put my oar (or tweet) into whatever conversation is close at hand.
(As I write this, I've gotten three text messages from siblings and it isn't even 7:30 in the morning!)
I don't want to see my over-burdened schedule as anything other than virtue.  Almost everyone I know is giving nearly every waking hour to good work of some kind or another.  I am blessed to know, and draw hope from, such people.
But I know myself.  If I don't step off at regular intervals and turn inward,recharge and reclaim my spiritual energies, I am unable to meet the very real darkness that shows itself with such painful regularity in private and public ways.
No one will applaud my turning down the next invitation to cocktails, or my decision to pass on making peanut butter fudge this year.
But all self-doubts scatter when I open up the marvelous wisdom of Thomas R. Kelly's A Testament to Devotion once again.  Written in 1941, it is as relevant today as it ever was.
Here is Kelly, in this slim, essential reading:
"There is a way of ordering our mental life on more than one level at once.  On one level we may be thinking, discussing, seeing, calculating, meeting all the demands of external affairs.  But deep within, behind the scenes, at a profounder level, we may also be in prayer…and a gentle receptiveness to divine breathings.
 "The secular world of today values and cultivate only the first level, assured that there is where the real business of humankind is done, and scorns or smiles in tolerant amusement at the cultivation of the second level – a luxury enterprise, a vestige of superstition, an occupation for special temperaments.  But in a deeply religious culture people know that the level of prayer and of divine attendance is the most important thing in the world.  It is at this deep level that the realm business of life is determined."
 For the few remaining days of Advent, I'd like to think that we all need to step out into a place where it becomes lucidly clear that the day's media blizzards, the purchase of a last roll of wrapping paper, a spritz of 409, or a dusted coffee table won't transform anything.
Our hearts know better.
This is a time to remember these words of Rumi:
                              Yesterday I was clever and I wanted to change the world,
                                        today I am wise, so I am changing myself.