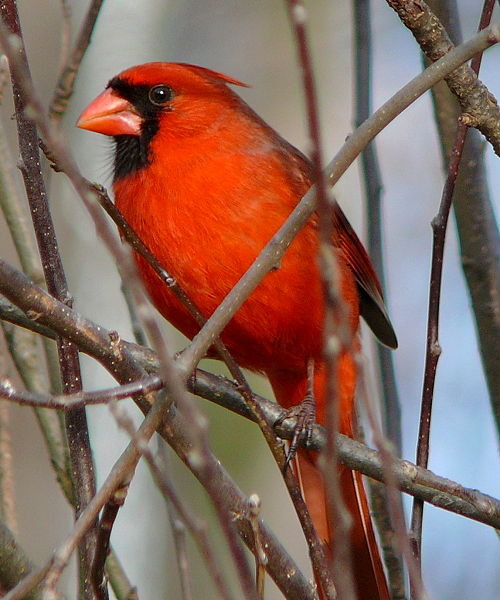 Hope is a Many Feathered Thing
For two days the female cardinal has sat on the bough outside the window where I write, with her back turned towards me.  She reminds me of my cat who, when displeased (usually by the absence of food in her bowl) makes an art of shunning.  I see her substantial backside until I relent – which never takes long.
Truth is, I've been preoccupied by the larger two-footed creatures in my life and neglected to fill the feeder for more than a week.  Snow has arrived.  The bird baths are frozen, seed from the grasses in short supply.
The cardinals nest in the privet below the feeder each spring.  Her suede and russet flanks, her little tuft of berry red at the tip of her head, are as eloquent a posture of disappointment as any I've been subjected to.
Finally in a fit of shame, I put on my coat and carry the large plastic bin of sunflower seeds outside.  I climb onto the upturned flower pot that doubles as a step ladder, unhook the feeder, and pour a cascade of seed into its cylinder.
Within less than half an hour, I am forgiven in spades by two brilliant males who frolic in and out of the hedge, taking turns tucking into the fresh supply.
I suppose that the arrival of food is always emblematic of a hope fulfilled.
The mother of one of my son's childhood schoolmates once told me that keeping a quart of ice cream in the freezer gives children a sense of security.
I am well aware these days of all the insecurities that present themselves.  Plenty of articles and books analyze the current political landscape far better than I can.  But two things should be noted, I think.
The first is that the insecurities many of us are feeling today — on the national political stage, in our cities — are new only to us.  Many have lived whole lives, and indeed generations, in the daunting shadow of insecurities and bitter disappointment that most of us have not seen with any awareness worthy of the name.
The second thing to be noted is that history maintains a narrative far more at home in chaos and insecurity than in stability and predictable, orderly progress.  That many of us have lived so many years without war, revolt, famine or long-term economic debilitation, is a fluke.
Perspective is everything, which is why birds give us one of nature's finest lessons.  Viewed from a high bough, our lives remain more secure today than did the lives of first century — or for that matter, present-day — Palestinians.  To say nothing of the slaves, those who survive in refugee camps, and segments of our own population.
But perspective also gives us the opportunity for self-compassion.  We have entered a new time, one that has exposed lots of empty or broken feeders that we've neglected to see until now.  The anger and disappointment, the finger pointing and figurative acts of shunning should not be surprising. Ice cream won't fix this.  But it is incumbent upon us to be gentle with our new state of being, as we move through the new darkness.
Self-compassion is the basis of our hope.  Self-compassion will lead us, sooner or later, out of the trap of reaction and towards constructive new imaginings.
Yesterday, a kind of brokenness was rejected in Alabama's special election.  This week, my city newspaper is running a series exposing the structural racism that we have all ignored.   New seeds will come from this, I am certain.
Hope, I learn again from my lovely cardinals, comes softly, and in many ways — not least, when in a dark pass, when my benign neglect, or casual indifference, or silence is jolted into action.