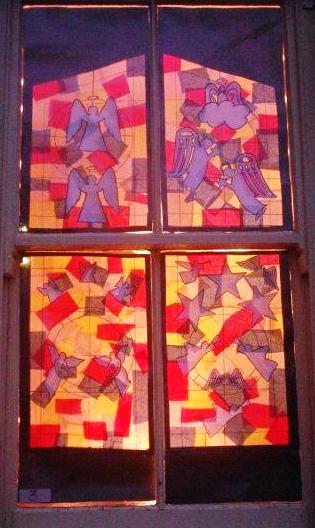 Generating Warmth and Light
"There are two ways of spreading light: To be the candle or the mirror that reflects it."
Edith Wharton, Vesalius in Zante
One of the best ways we have of spreading light is also one of the oldest: by telling stories.
Each time a story of goodness or courage or hope reaches our ears, we grow a little brighter ourselves.
So here is a story that warmed me this dark and very cold Boston week.  It shows how very little it takes to transform our days and seasons so that we can see past the scrim of ordinary time to the deeper dimension that flows along within it.  In this case, all it took was a good idea, willingness, and the time to cut a few pieces of paper.  Really.
The village of Askrigg, in Yorkshire, England, (population 450), has created a beautiful ritual to mark the dark nights of Advent.  Everyone and anyone can participate, whether they are "religious," "spiritual," or "none."
Beginning in late November, children, older singles, and families, begin the annual project.  They create cutout scenes from black paper.  Some choose the numbers of the Advent days.  Others create silhouettes of secular themes like pine trees and stars; still others, conventional religious motifs like angels or wreaths.   The more artistically-minded carve elaborate creatures from well-loved carols.  These shapes are then covered over with layers of colored tissue paper to become "windows."  When they are finished, the "windows" are taped to shop or a home windowpanes.
When Advent arrives, each night a different window is unveiled, the light from the room behind them illuminating them for the whole village to enjoy.  As the days go by, and more windows join the pageant, families take to walking together through the streets to enjoy the display.
Three women – an artist, a teacher, and a real estate agent in the town —  got the ball rolling in 2009.  In the article in which I discovered this initiative, the artist acknowledged that at first people needed a bit of coaxing.  She offered workshops at the local church.  It didn't take long for the villagers to fall in.  These days, the "windows" project has become a community wide event, and even beyond, with visitors dropping in to view the creations.  The organizers field new ideas and volunteers each season.  The art work, too, has only gotten more ambitious and well-executed with each passing year, and the village walks are now a time everyone looks forward to, to meet up with friends and neighbors, in might be an isolating time for some.
It is so simple.  It returns the season to its core story, replacing consumer anxiety and excess and frayed nerves with inclusivity, wonder, and light.  All it takes is construction paper, scissors, tissue paper, and a willingness to spread a bit of joy.